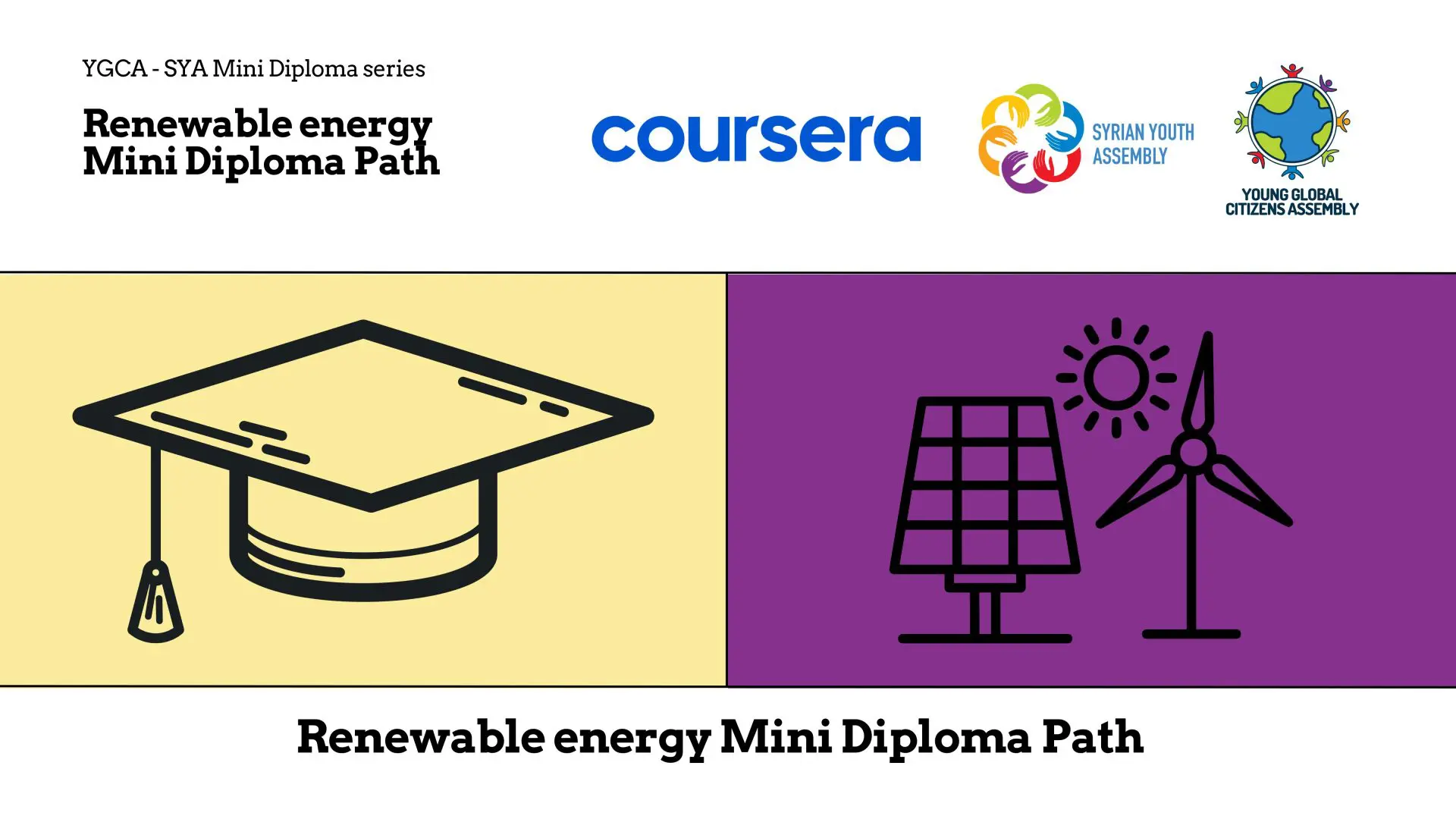 Renewable energy mini diploma path
Overview 
Energy is the life, and today without energy we can't live, so people today looking for a new resource to energy to make the life easier, from this point they decided that they have to focus on renewable energy in all of its parts electricity, transportation and for environment safety،
We are in dangerous if we haven't petroleum or fuel in the next years all of our activities will be stop and we will can't doing anything for it, so we have an alternative solution to solve this that is to use renewable energy, such as wind energy and solar energy or the both to make a hybrid system. that will help us to keep the environment safety and will not affect on our life 
How can take this program and what its requirements ?
To whom is interested with working with energy production, and improve the effenicy of equipment's 
If you are an electrical, mechanical or energy engineer and you want to start your career path or you want to improve your skills 
If are a searcher on renewable energy science and you're looking for a new opportunity
If you are interested to work at energy and utilities sections or if you're looking for a new career with this field 
Skills you will gain
You will get the knowledge at renewable energy and the future of it
You will be able to work as a renewable energy engineer and that will help you to improve your academic experience, to apply it for a new field.
What level of English language is required?
An intermediate level of English at least, starting from B2
What Kind of certificate will you gain?
Students will earn two types of certificates:
The first certificate will be from Coursera for each course you will complete successfully, plus a specialization certificate for one specialization.
The second certificate is more like a degree from the Young Global Citizens Assembly )YGCA) and the Syrian Youth Assembly, it will contain all the achievements you have done throughout the required courses, plus the below information:
How many hours does it take to complete the certificate?

All the courses' names or only the important ones.

Most important skills and project names.
What Kind of career opportunities, which Renewable energy mini-diploma can open for its graduates?
Renewable Energy mini-diploma can open up various career opportunities for its graduates. Here are some potential career paths:
1.Renewable Energy Engineer: Graduates can work as engineers specializing in renewable energy systems, designing and implementing projects such as solar power plants, wind farms, or geothermal energy systems. They may be involved in system design, equipment selection, installation, and maintenance.
2.Sustainability Consultant: Graduates can work as sustainability consultants, helping organizations and businesses develop and implement strategies to integrate renewable energy technologies and reduce their carbon footprint. They may conduct energy audits, assess renewable energy feasibility, and provide recommendations for sustainable practices.
3.Energy Analyst: Graduates can work as energy analysts, analyzing energy consumption patterns, conducting energy efficiency assessments, and developing strategies to optimize energy use. They may also evaluate the economic viability and potential benefits of renewable energy projects.
4.Project Manager: Graduates can pursue careers as project managers in the renewable energy industry. They would be responsible for overseeing the planning, execution, and completion of renewable energy projects, ensuring they are delivered on time and within budget.
5.Policy Analyst: Graduates can work as policy analysts, evaluating existing renewable energy policies and regulations, providing recommendations for improvement, and assessing the potential impact of new policies. They may work for government agencies, non-profit organizations, or research institutions.
6.Renewable Energy Sales and Marketing: Graduates can work in sales and marketing roles for companies that specialize in renewable energy technologies. They may be involved in promoting and selling solar panels, wind turbines, or energy storage systems to residential, commercial, or industrial clients.
7.Research and Development: Graduates can pursue research and development roles in the renewable energy sector. They may work in laboratories or research institutions, focusing on developing new technologies, improving efficiency, and finding innovative solutions to renewable energy challenges.